The sale everyone talks about, maybe even a little too much is happening very soon, the Nordstrom Anniversary Sale! I didn't think I was interested in doing too much shopping this year but then it hit me that I'll no longer be pregnant so now I am excited to shop for a few new things! I am keeping in mind that I'll be nursing so I want most items to be nursing friendly and nothing too tight, at least not for the first few months post-baby. I'll be adding categories to this post as they are ready.
Before we get into my sale picks I wanted to explain a little about the sale in case you aren't aware. The Nordstrom Anniversary Sale is when Nordstrom released new fall merchandise at wonderfully discounted prices. Think denim, booties, sweaters, and jackets. The first thing to note about this year is that everyone gets to preview the sale items on the same date which is July 24th. It really is a great idea to start saving items to your wishlist. I am always amazed at how fast items sell out, even while I'm browsing. This will help you see what items you love are available and to be able to check out as quickly as possible or to even edit your cart to make sure you really want it.
The Nordstrom Anniversary Sale has an Early Access Sale for its cardholders starting August 13th. This is for people who have a Nordstrom credit or debit card (see below for more details in the graph). I mentioned before, items sell out fast because so many people are cardholders, part of the Nordy Club as they call it. If you want to sign up to be a cardholder click here so you can access the sale right away. There are a lot of returns that happen so if something you want is sold out make sure you keep checking back on it!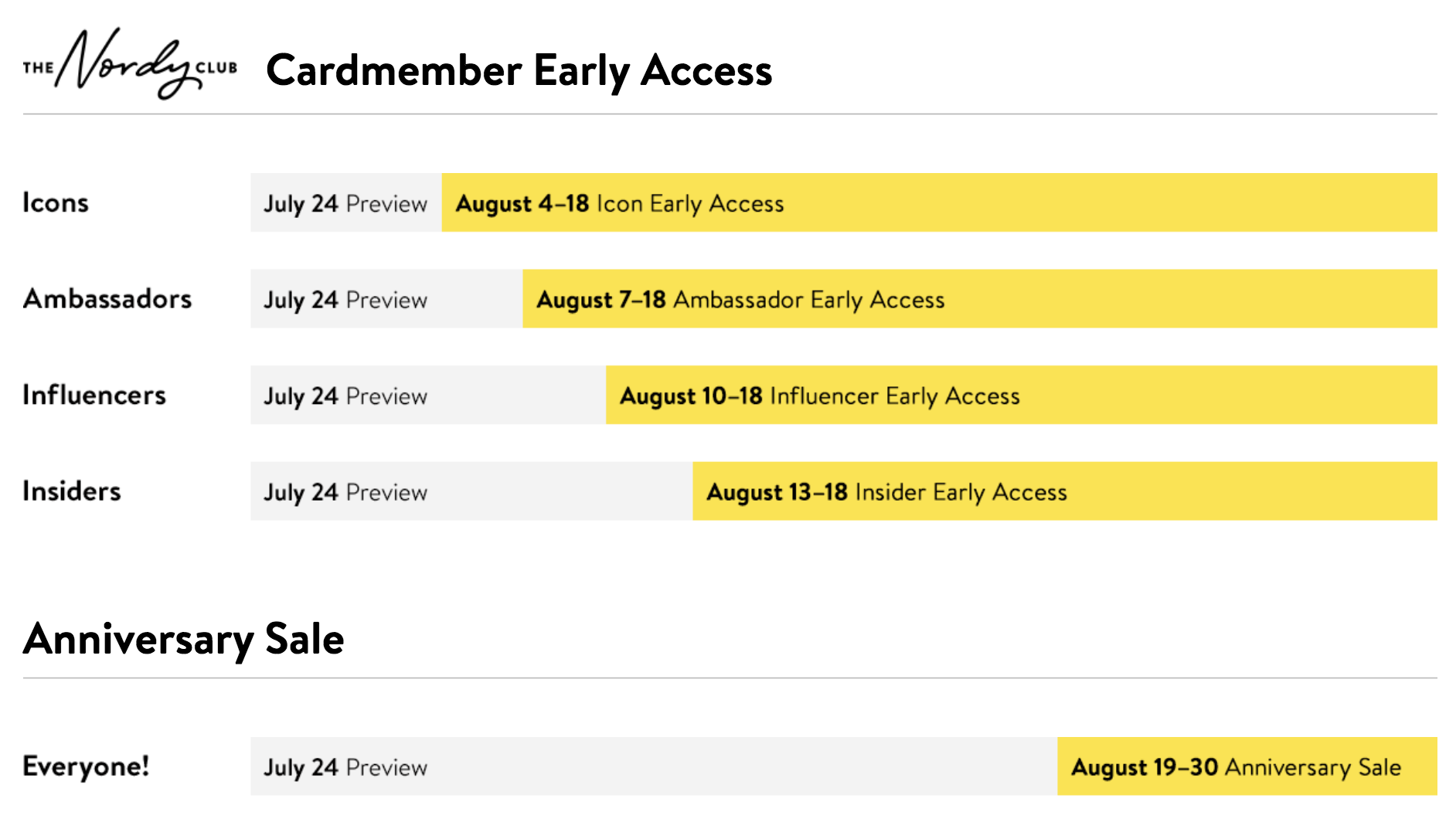 Find my picks below:
FITNESS //  I am no longer investing in maternity leggings but they have some great options on sale that I added to my list if you are expecting. I was looking more at high waisted leggings to hold my post-baby skin in (your tummy is extra loose after you have a baby, no matter how toned you are) and flowy tops. I paid extra attention to the cut of a couple of tanks to see if they are nursing friendly, preferring them to be low cut under the arms- these tops go great with a nursing sports bra.

WORK FROM HOME //
HOME //

BOOTS/BOOTIES // How many pairs of boots do we really need? The style in the shoe department hasn't changed too much but I am looking for a pair of chelsea boots, motorcycle boots and a pair of brown snake print booties. I have a gray snake print pair of booties that I love and wear all the time. I also think I may want another pair of fashionable hiker boots. Now that I spend my winters in Utah I rarely wear heels and I am finding myself in hiker boots more and more.  I would highly recommend getting a pair of white booties if you have been contemplating it. I got my white booties over 2 years ago and wear them all the time!

DENIM //
OUTERWEAR //
BABY //

BOYS //